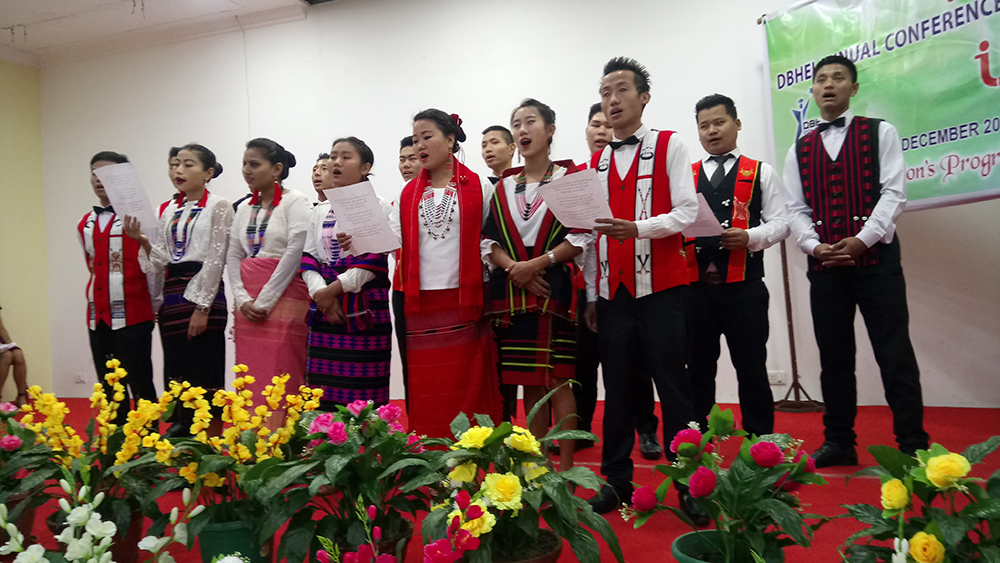 The two days conference began with the arrival of the participants on 29th November at the venue.
The Inaugural session began at 9.10am on 30th November with Fr Maria Charles, Vice President presiding over. The session was compeered by the students of IDA course, Dimapur. It began with a welcome dance by students. The lighting of the lamp was done by the dignitaries. The presence of the IUS General Coordinator, Rev. Fr Marcelo Farfan was indeed very encouraging. The welcome address was given by Fr Jose Kuruvachira, Provincial of Dimapur. He gave some information about the Province, then welcomed everyone to the Province and wished the meeting to be very useful to all. As a sign of welcome, a Naga Muffler was put on the dignitaries.
Fr Maria Soosai , the secretary, gave an introductory speech. Fr Marcelo spoke on the various IUS programmes at the Continental levels and of the need to work along with the IUS. Fr Maria Charles spoke on the status of Higher Education in the country and the possible collaboration the DBHEI institutions could have with the DBYA- SA. At the end of the inaugural session Fr Jose George, the Provincial delegate of the Dimapur Province proposed the vote of thanks.
After a tea break, the first session was held, in which the invited speakers Ms. G A Bidyalakshmi Devi, Asst. Prof. of DBC Maram College spoke on the theme of: The Historical steps involved in the writing of the Indian Constitution. She spoke of the various processes involved in the writing of the Constitution. After one or two clarifications, the second speaker Dr Salikyu Sangtam, Asst. Prof. of Political Psychology, St Joseph University, Dimapur, spoke on the Structure of the Indian Constitution. Fr Joy Ullattil, executive member and higher education delegate of INK Province coordinated this session.
The afternoon session began at 2.30 pm with two presentations by Fr Casimir Motcham, Rector and Delegate of the Trichy Province on the theme: The role of youth in Nation building. He spoke on the Youth policy of India- 2014, and it was a very resourceful paper from where the participants could take many ideas to implement. The third resource person was Mr Jojo Mathew, Chief executive- ALS- New Delhi, and he spoke on the topic: Minority rights enshrined in the Constitution. Fr Innocent Suresh, Principal of Kohima, Don Bosco College coordinated the session
The morning sessions were re-organized due to the funeral of Fr Fr P L Joseph of Dimapur Province There were a few presentations by Fr Jose Palely on the theme of: What is the sixth schedule of the Indian Constitution: its purpose and prospects as applied in Assam? Fr Maria Charles on the theme of: Nation Building with Young People and Fr Thaddeus, on the theme of: The Palmyra Evolution: Strategies for Fitness, growth and Excellence of DBHEI Institutions.
28th January, 2019 Fr A Maria Soosai, Secretary, DBHEI