Don Bosco College of Engineering, Fatorda- Goa is one of the institutes to be selected for establishing MHRD – Institute Innovation Council (IIC). Ministry of Human Resource Development (MHRD), Govt. of India has established MHRD's Innovation Cell (MIC) (https://www.mic.gov.in/) to systematically foster the culture of Innovation amongst all Higher Education Institutions (HEIs) pan India. The primary mandate of MIC is to encourage, inspire and nurture young students by supporting them to work with new ideas while they are in formative years
As part of the above, an Internal Idea/PoC competition was held on February 8, 2021 in online mode to invite ideas from young minds. This event helped validate a product/ business idea for potential.
Two eminent jury members – Mr. Venugopal T R, Corporate Relations Manager at Forum for Innovation Incubation Research & Entrepreneurship and Prof Flavia Leitao, Assistant Professor ETC Department, Don Bosco College of Engineering, were invited to judge the event.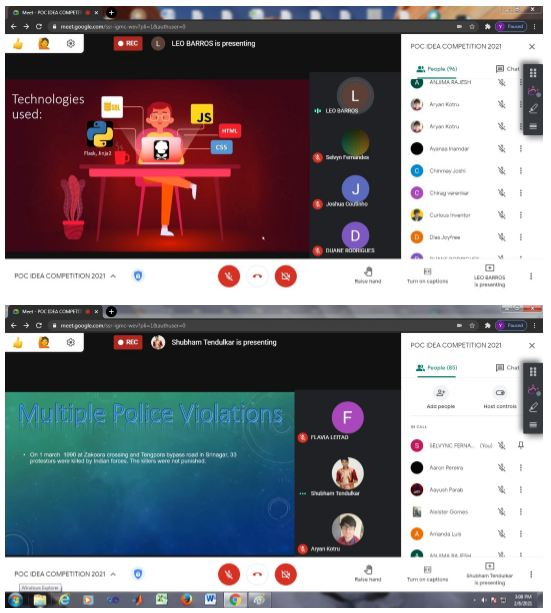 Prof Swapnil Ramani, host and Co-ordinator of the event welcomed the judges and introduced the teams. A total of 100 plus students joined the meet and the participating teams presented fabulous ideas that addressed various socio-economic issues faced by the society. Students from first year engineering demonstrated highly professional presentation skills with great innovative solutions to problems that left the judges impressed.
The finalists of the competition were Team Hexacore and Solutionism at its finest, followed by team Fabulous Five and SATRN Squad. In conclusion, the event was a great success leaving all students very motivated and giving them a reason to explore the world of Innovation and Entrepreneurship.